Reviewed by Kirsten
I purchased this for my lovely aunt who just turned 80. My aunt was delighted by the soaps and incredibly pleased with the "extra" the seller snuck in there. Thank you! Great shop.

 Reviewed by Kirsten 
Exceptional seller even amongst Etsy's fantastic shops.

 Reviewed by Miranda Licerio 
Thank you for the goodies included in my package!! I love the opportunity to try the other products and see what other goodies I can order in the future. I personally used this item on my hair and it worked great. I also of course used it on my body too 🙂 I got the aqua di gioia scent and smells so nice. Great shop and products and customer service 🙂 These are great products. I have been using ONLY handmade natural products for 4 years. Finding sellers on ETSY who make a true natural product from scratch is a MUST. I will be back soon especially since I have been "eyeing" some other goodies . Thank you Jas and Roxy!!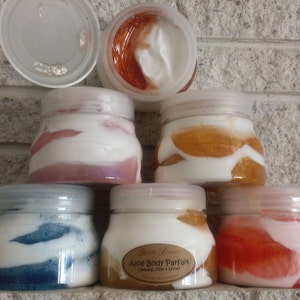 Love these parfaits! I have ordered these before in Lovespell scent and I liked them so much I ordered two more 🙂 The scents are super great 🙂 Parsley water smells AWESOME (The name is funny but smells really good ) Coconut is great too! A++++++++++ Shipped out super quick too. Will be back soon!

 Reviewed by Barby
This will be an enjoyable product, for baby massages. It's very hard to find this type of thing, out in the market. And then to be able to trust it, is a huge plus also. And the smell is wonderful, too. Is there anything more calming to a baby, than lavender. It will be so nice, right after his night time bath. I can smell him already! YUM! I also want to thank you for the sample of soap, which smells wonderful. And the foot balm (I'm keeping all for me) haha. and for the jar of the Ducky Do! I already know his mommy and daddy will be using that on him, but daddy may use it himself, also! I guess it's alright, though, I did teach him to share! Thank you ladies, for everything, and for selling products that give us grandmas, and new mommies, the confidence and knowledge we need, to care correctly for our loved ones. <3 <3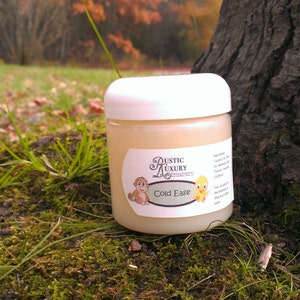 I really do believe the whole family will be using this product! And how comforting to have this type of cold ease, to use on a new baby. You just can't find this anywhere, and have such confidence in it. When you hear that the maker of this product, uses it on her little twin girl and boy, it gives us the confidence to try it. That means so much. And all the helpful information on these products is very much appreciated, also. I can't thank you enough. I WILL be shopping with you again. Please don't go anywhere, I'd be lost! lol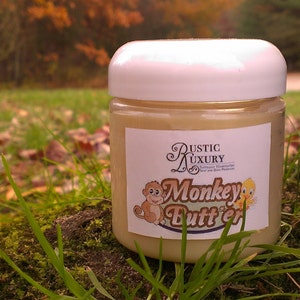 This is going to be such a helpful product for the new addition to our family. It is so wonderfully packaged, and I love the nice, simple, clean look to it. And then to send me an extra 2 ounce size for the diaper bag! That was so generous and wonderful of you to do that for us! Two lovely ladies, who go above and beyond to bring good service to their customers. They also make it affordable for parents, who want natural products, to use on their babies, be able to have that choice. Thank you so very much. We both appreciate you, more than you know!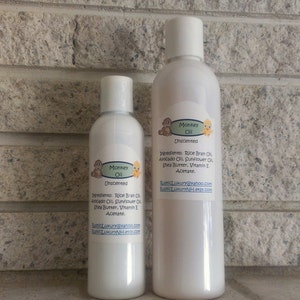 We have a while to wait, yet (May 31st), but I know we will enjoy this product. It smells sooo good, and should be very calming for a baby. What a pleasure it is to do business with Jasmine and Roxy. Very fast response to questions, and so very helpful with how to use their products. And when my package came, I had so many other products to sample, which is so very helpful, when starting out with the 1st grandchild. Things have changed immensely, since I raised his daddy! Thank you ladies for all of your help, and I already know I will be back. Keep up your wonderful work!
 Reviewed by Jenny Ross
Just received my monkey butt*er in the mail! The baby isn't here to try it on, but I used some on my hand and it's great. It smells wonderful and goes on smooth. So far, I love it!

 Reviewed by Miranda Licerio
This stuff is AWESOME! I love it 🙂 It looks soo cool and fun! I have seen others but what hooked me in was the natural ingredients. A true handmade product. Moisturizing and smells great. Large 8 oz. size. The aloe gel parts also have some shimmer in it, nothing that is overwhelmingly glittery at all. I am definitely going to purchase more 🙂 I greatly appreciate the little extras and the opportunity to try the other products. Great communication. A++++++++ I will be back!

 Reviewed by Kathleen Gilreath
This item was great for my granddaughter for her rash. It was sent out very fast.

 Reviewed by Christina Langley
This works awesome in my hair!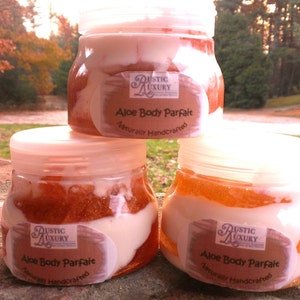 Smells amazing!! Feels pretty great too.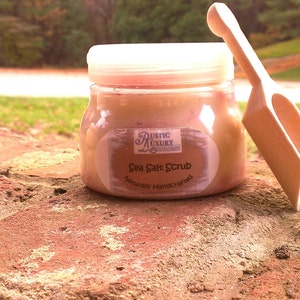 Just fantastic after shaving your legs.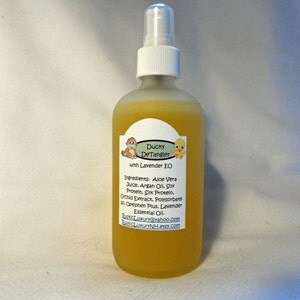 Smells great and works well.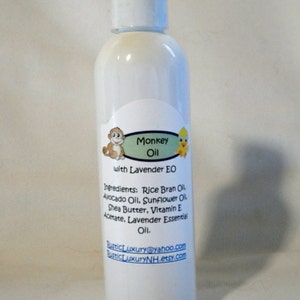 I love this since it isn't greasy.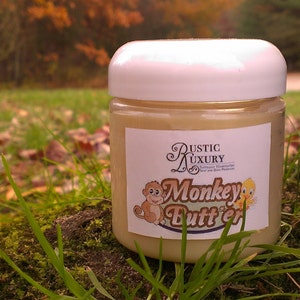 This is amazing!! I use it all the time on my cloth diapered baby girl!

 Reviewed by Sherrie Lahr
This works great! THANK YOU!!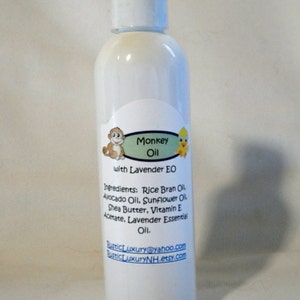 Love this oil!! Thank you so much!!

 Reviewed by julianna12381 
I rubbed this on my son's feet and he was cough-free all night long!

 Reviewed by Melissa French 
Very mild, soothing scent. Great for little babies or people who are sensitive to smells and don't like the bite of standard menthol rubs. You can apply the vapor rub without waking the baby with this gentle scent. I like that this uses safe, natural ingredients. Cute packaging. Very affordable. Highly recommend.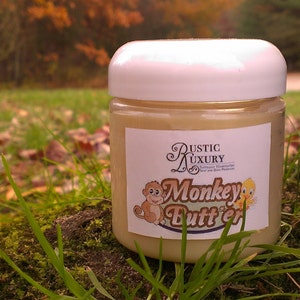 This is a wonderful product, tell your friends. It is very good for diaper rash, it works quickly and a little goes a long way. It is also good for drool irritation. I clean houses and sometimes the chemicals irritate my skin, but a little bit of this will calm things down right away. I like that this uses safe, natural ingredients. Very affordable. Cute packaging. Highly recommend.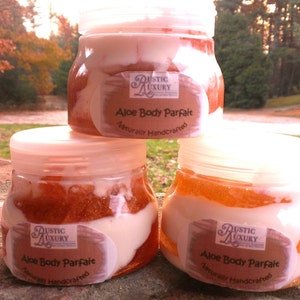 I am addicted to this, it was my favorite product. It smells stuff-your-nose-in-the-jar heavenly. This is a spa-worthy product, the mica makes it look so luxe. This would make a great gift to impress someone, it is a super value but looks more expensive. Very affordable. Beautiful packaging. Very highly recommend.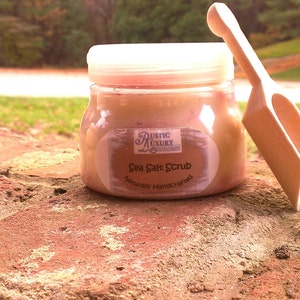 Easy to apply and exfoliates well. Very affordable. Beautiful packaging, spoon makes it extra special and a great gift. Highly recommend.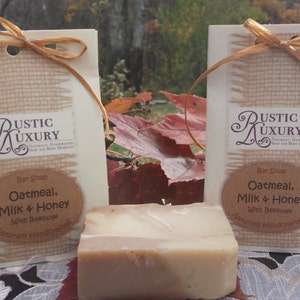 I love this soap, it is creamy and smells great. Not only does it not dry out my skin, it leaves my hands very soft. You can tell that this is a hand-crafted, quality product. Very affordable. Beautiful packaging, nice size bar too. Highly recommend.