Variety 5 Pack of Hand Crafted Soaps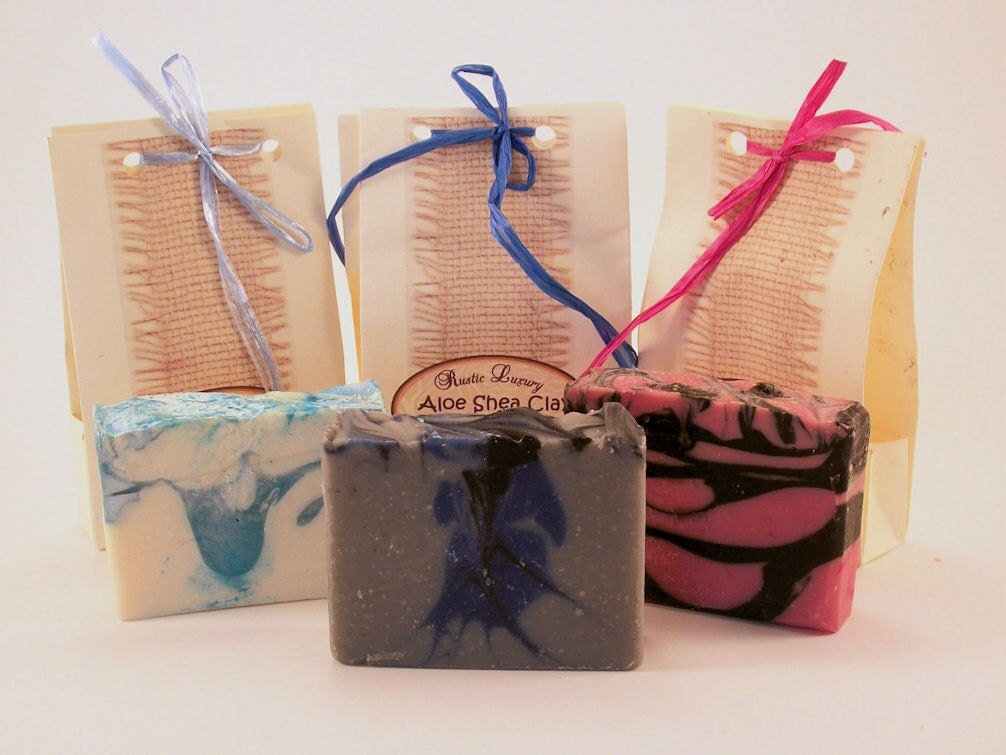 Pick out any 5 bars of our hand-crafted soaps and get a discount. Just type in which bars you would like to receive in the comment section of your order and we will send them straight to you!

All of our soaps are made with rich oils and natural ingredients. We do not add harsh chemicals, petroleum products or mineral oils to our soap.

Please scroll down for a listing of our soaps and a short description. Please feel free to look at the original listing for any soap for a full description.

These are full size bars of soap! We do not send you smaller or trial size bars.

This is a great way to save on shipping!

Disclaimer: Since our products are made in small batches there may be some variations in color, size, and texture. These variations have no affect on the product quality!

Oatmeal, Milk, and Honey Soap - This rich and moisturizing soap has real oatmeal milk and honey swirled throughout. It is our best seller! It has a wonderful oatmeal milk and honey fragrance that everyone loves! It offers very gentle exfoliation and is great for sensitive skin. This one is great as a gift! (This bar also comes in an unscented version for extra sensitive skin!)

Goat's Milk Soap - This is a classic soap. It has real goats milk added to the recipe to give you extra miniaturization that is gentle and great for sensitive skin. we scent this with lavender essential oil so it has no fragrance oil added. (This bar also comes in an unscented version for extra sensitive skin!)

Spa Soap - This soap has activated charcoal and Rhassoul clay which are both detoxifying and good for dry skin and acne. This bar also has added goats milk for moisture. This is a great bar for washing your face. It also helps with acne!

Pine Tar - Pine tar has been used for centuries to help with psoriasis and eczema. We have received great feedback on the results from people with these conditions using this soap! it also has tea tree oil which is very healing soothing on dry skin. This bar is scented with essential oils so it is great for sensitive skin.

Sea Salt Soap - This exfoliating soap leaves your skin feeling soft and smooth! It removes dry skin and moisturizes the fresh skin underneath.

Coffee Soap - Coffee is great for your skin! It is said to reduce inflammation and even help with cellulite! This soap has real ground coffee beans added for exfoliation and also uses rich oils to moisturize your skin. It will wake you up in the morning with its fresh brewed smell!

Beer Soap - Once the alcohol is heated out beer has many botanical properties from the hops that are great for your skin. This soap is a great gift for the guys in your life, and makes an awesome stocking stuffer! We still use all of the rich oils we put in our other soaps to leave skin looking soft and moisturized.

Coconut Milk Soap - Coconut milk is great for moisturizing and softening skin. We offer this soap in Coconut Dream, our own coconut formulation. This soap is great for all skin types.

DoubleMint Soap - This soap is great aromatherapy. It is a rich moisturizing soap with peppermint and spearmint essential oils added. Don't just use this at Christmas! Peppermint is said to help with tension headaches and muscle aches. It is also supposed to be cooling so with the added aloe this is great for skin that may have gotten too much sun!

Lemon Exfoliating Soap - This soap has a bright invigorating scent! We use essential oil to scent this soap and ground lemon peel for exfoliation. It is great in the kitchen to rid hands of unwanted smells! It is also moisturizing and good for dry skin.

Woodsy Charcoal Soap - This soap has a popular men's scent. It has added charcoal to detoxify skin which makes it good for dry skin and acne.

We are always adding new soaps, so if you see a soap listed on our site that I may have missed here feel free to request it!

*~*~*~*~*~*~*~*~*~*~*~*~*~*~
Please see our Policies for more information on our additives and ingredients used, as well as details on custom orders!

We make all of our products in small batches with the best possible ingredients. We use no petroleum products, and no harsh chemicals (except for lye).

We want our products to feel and work well, but also be good for you!
Ships
from United States
ship to
cost
with another item
United States

$6.00

USD

$2.00

USD

Canada

$10.00

USD

$4.00

USD

Mexico

$10.00

USD

$4.00

USD

Everywhere Else

$20.00

USD

$6.00

USD